Player Spotlight: Alex Rzepka & Emma Sheehan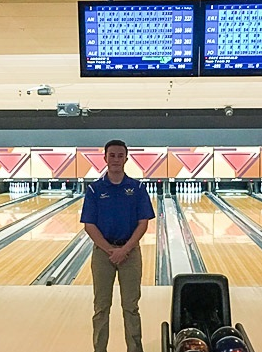 Hang on for a minute...we're trying to find some more stories you might like.
This week on player spotlight we have two nominees. Alex Rzepka and Emma Sheehan from the varsity bowling team. Alex is a four year member and two year captain of the team. Head Coach, Mrs. Stoldt says that Alex is a terrific role model to all of the younger bowlers on the team. Alex is always offering suggestions and support when needed to his other teammates. 
His positive attitude, strong leadership qualities, and friendly nature are just some of the qualities that stand out the most about him. Just recently,  
Alex holds the new school bowling record for high game, a 300, which is the perfect game.  He is also on track to have the highest average on school record.  At this time, Alex has a 218 average.  He is a valuable member to the team. Along with this Alex was also featured on Channel 7 Super Male Athlete of the week for his 300 game. 
Emma is a 2 year member and captain of the team. Emma
 always tries her hardest to improve her game which includes bowling in the off-season and working with a professional bowler for tips and pointers over the summer.  Mrs. Stoldt explains how Emma is one of the most kindest person she's ever met, "She never shows her frustration and is a pleasure to work with".
Emma has worked very hard this season and it has paid off immensely. Her average has improved by 27 points, going from a 121 last season to a 148 this season.  Emma deserved being featured on Player Spotlight this week because of her excellent work ethic, and her desire to always succeed.  
CONGRATULATIONS TO BOTH ATHLETES AND KEEP UP THE GREAT WORK.