Player Spotlight: Brittany Jordon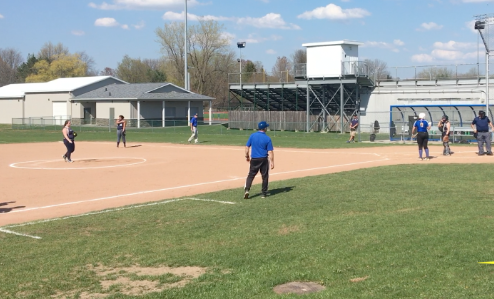 Hang on for a minute...we're trying to find some more stories you might like.
For the start of spring sport "spotlights" we have Brittany Jordon from the Varsity Softball Team. Brittany was nominated by her coach, Mr. Kryszczuk. Jordon is a senior, and has been on the team for over 4 years. She lead the team the last 4 years through practices, games, sectionals, and even states.
Brittany Jordon is a major key to the Varsity Softball teams success. She has been apart of the team winning over 50 games in the last 4 years. Jordon has also been a 4 year starter, since she was a freshman. Some of the biggest things that stands out about Brittany this year is that she is stealing bases. Coach Kryszczuk said that this is something that's hardly done at this level of softball. So far for this season she has stole 16 bases and counting. She is one of the girls on the team with the highest "on base" percentage. Brittany also has three home runs this year. "She does it all as a batter", Coach Kryszczuk says. Defensively, Brittany is as good as any short stop ever.  For the last two years  Jordon has been an E.C.I.C. Allstar. As teammate she helps get the team started and ready to go out and play just by her overall competitive mentality. Coach Kryszczuk says that he will defiantly miss her next year.
Brittany plans on attending Medaille College after she graduates where she will also play softball for the Mavericks. Keep up the great work!
Be sure to catch Brittany at the next home softball game!