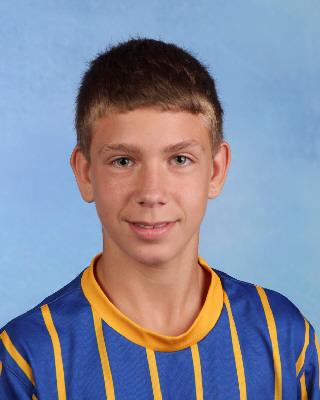 ABOUT ME: I have gone to Alden Central Schools for 13 years now and I really enjoy living here.  I am now currently a Junior here I have played soccer for the school the past 5 years, played basketball for the past 4 years, and just began to do track again; which I am doing the field event, pole vault.  I live with my father my mother and my two sisters who are really annoying.  We have a dog named hunter who is an English lab and about 11 years old we also have 10 chickens, a cat, and a turtle.
My Father and I both enjoy hunting we hunt on my land I just started hunting about two years ago, but my dad had been hunting for about 20 years.  I like to go fishing at my neighbors.  My neighbors are really cool and we hangout with them about three times a week. I always challenge their sons in basketball one-on-one and I usually win.
My favorite class in school is probably Sports and Entertainment Marketing with Mrs. Siuta.  My least favorite class is science.  This year, I do enjoy all of my classes and the people I have in my classes are all pretty cool.  Most of my teachers are actually pretty cool too and I cant wait for the Battle of the Classes to see if the class of 2018 can win it again this year.
Matthew Schuh, Reporter
Jun 08, 2017

Pembroke Invitational

(Story)

May 10, 2017

Niagara Falls Track Invitational

(Story)

Mar 27, 2017

Boys Track Season Preview

(Story)

Feb 17, 2017

Bulldogs Defeat Cleve-Hill

(Story)

Feb 14, 2017

Boys Basketball takes it to JFK

(Story)

Nov 23, 2016

Varsity Girls Basketball Looking Forward to the Alden State Bank Tournament

(Story)

Nov 13, 2016

Varsity Golf Vs. Tonawanda

(Story)

Oct 12, 2016

Boys Varsity Soccer Defeats Tonawanda in a Rematch 4-2!!!

(Story)

Oct 03, 2016

Varsity Soccer Blanks Eden

(Story)