KISSELL SELECTED FOR FIEBELKORN WRESTLING AMBASSADOR AWARD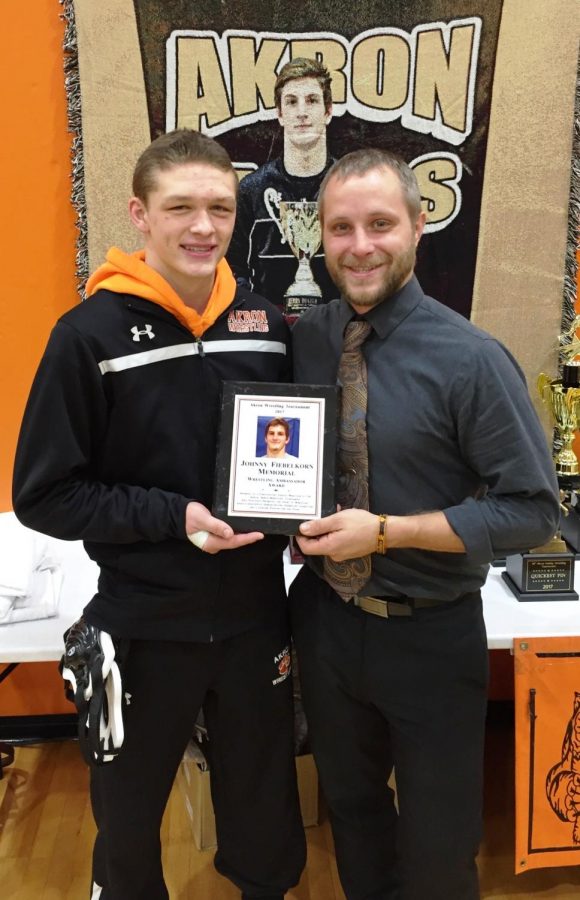 Staff, Staff
January 11, 2018
AKRON, NEW YORK (January 8, 2018) – Owen Kissell, a senior from Alden Central Schools competing with the Akron-Alden Tigers on the first-year combined varsity wrestling team, has been selected for the inaugural "Johnny Fiebelkorn Wrestling Ambassador Award" awarded during the 50th Annual Akron Holiday Wrestling Tournament held December 28th and 29th with twenty area schools competing.  Kissell has also been selected Tiger Athlete of the Week, a regular feature of cross-town newspaper, The Akron Bugle.
During a special ceremony prior to the tournament finals, Kissell was awarded the inaugural "Johnny Fiebelkorn Wrestling Ambassador Award."  Fiebelkorn, an outstanding ACS wrestler who earned three trips to the state championships in his career, passed away in August 2017 in a tragic car accident just before the start of his senior year of high school.  To win this distinguished honor, Owen and other athletes participating in the tournament were first nominated by their coaching staff as ambassadors of the sport.  A committee reviewed each of the nominations before selecting Kissell as the first-year honoree for the award.
"As one of our team captains, Owen has shown nothing but great talent and hard work, day in and day out," said Coach Dan Klonowski.  "He's been a blessing in the practice room and his selection for the Johnny Fiebelkorn Ambassador Award was truly deserved. We look forward to him finishing his career strong as a Tiger and hope he can extend his season by making a run at the state tournament in Albany.  Congratulations, Owen!"
At the Akron Holiday Tournament, Kissell had many tough opponents in his 126-pound bracket, but started strong with two quick pins and then defeated his opponent in the semi-finals, 9-2.  In the finals, Kissell faced his Akron teammate, senior Tom Fischer, edging out his practice partner to earn first place in his weight class while helping the Akron-Alden team finish a close second overall in the tournament.
Kissell is currently ranked Top 6 in the 126-pound weight class in all of Western New York following a great showing this past weekend at the prestigious NCCC Tournament where he placed 5th while only losing one match.