Get Your Golden Ticket for Willy Wonka Jr!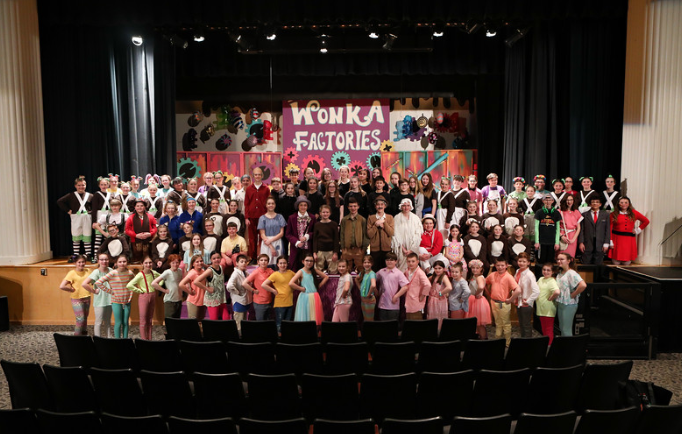 Rayahna Tryka, Reporter
March 4, 2020
Get Your Golden Ticket for Willy Wonka Jr!
By: Rayahna Tryka
Alden Middle school is presenting Willy Wonka Jr. this week at 7:00pm Thursday, Friday and Saturday. Additionally, on Saturday is a 2:00 matinee show. Buy your tickets ahead of time online since they're selling fast! Jaclyn Principe stars as Willy Wonka, leading Charlie Bucket, Mike Teavee (Aurora Tryka), Veruca Salt (Lily Gadd), Violet Beauregarde (Rebecca Clifford) and Augustus Gloop (Nathaniel Bartsch) through the chocolate factory. The cast, crew and directors have been preparing since early November for their performances. From tap dancing candy workers to acrobatic squirrels, this musical will have you surprised and intrigued during every scene. Humble and kind Charlie Bucket is played by Emily Sentz. He lives with Mrs. Bucket (Grace Leonard), Mr. Bucket (Enzo Riccione), his Grandma Josephine (Rayne Cornish), Grandpa George (Jared Basen), Grandma Georgina (Kaitlyn Panek) and Grandpa Joe (Anthony Kudla). They are extremely poor- so poor that they can barely even afford the newspaper as stated by the Candy Man (Alex Lysiak). Although, after learning that finding a golden ticket in a Wonka Bar will bring a lifetime supply of chocolate and he has hope and sets out to be one of the five golden ticket winners. Through thinking positive, his wish is granted and Phineas Trout (Taylor Larvarnway) announces that Charlie is invited to meet the chocolate master himself outside of the factory gates with the other very naughty and spoiled children. Charlie and his Grandpa Joe follow Mr. Willy Wonka through the little, big, small and tall rooms of the chocolate factory and travel with the others on a pink candy boat. Of course, they come across Oompa Loompas on more than two occasions and travel past the rock candy mines and enter the Fizzy Drinking Room. One by one, the children are tempted to disobey Willy Wonka and be greedy. And one by one, they're sent away. But who is left with Wonka at the end of the journey? Well, that's for you to find out at the shows this week! With student director and choreographer Mason Brody, the set has been able to be one of the most phenomenal the middle school shows have seen to date. He's spent countless hours building and painting along with the help from much appreciated volunteers. Mrs. Rebecca Buell has organized stage and tech crew amazingly this year setting them up for success and quick scene transitions. Not to mention Mrs. Amy Sheehan's hours and hours of dedication to creating handmade costumes with a little help from her daughter to bring this magical musical to life. And we cannot forget Mrs. Melanie Henning's phenomenal tap choreography and assistance every day. Last but not least, Mrs. Erin Tryka and Mrs. Jill Olka are the reason these children have grown to love the arts and theatre as much as themselves. They not only set them up for a terrific show, but also each them lessons of responsibility, compassion and the drive for hard work and success. We thank you all for coming to support the middle school theatre program this week. Don't forget- buy your tickets now at aldenschools.org/boxoffice. Just keep in mind that if you love candy and bubbles, you'll love this musical!