Five More Athletes Join the Ranks of the Great
2015 Wall of Fame Inductees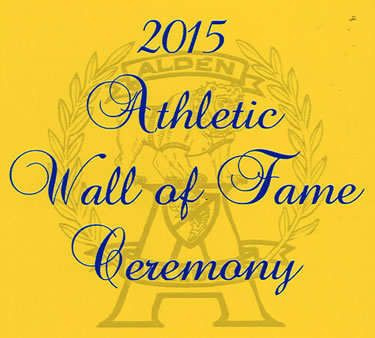 Lyle Grant, Reporter
October 9, 2015
This Homecoming, five more athletes joined the ranks of the greats on Alden's Wall of Fame. This year's inductees cover a vide variety of past athletes and sports. The Wall of Fame covers an elite group of athletes stretching all the way back to its first inductee, Eddie Kegler, Class of 1932. This years inductees include the most recent graduating class eligible for the honor, the class of 2008.
The first inductee this year was Rich Becker class of 1966. Rich was a three year starter on the varsity basketball team, being dubbed Mr. Basketball by his peers. Rich was a 3-time divisional all-star and led his team to two division titles and an appearance in the sectional championship. He once led all of WNY with the record for most points in a single season with 542. He currently stands at 5th in school history for points scored with 1023.
Our next inductee this year was class of 1968 graduate Tim McCarthy. Tim was a two-sport athlete in Alden with participation in both baseball and football. Tim was known best for his contributions on the football field. Despite being one of the smallest players on the field, Tim ran his offense from the Quarterback position with extreme efficiency. He was selected for the ECIC Division 3 All-star team back-to-back years his junior and senior seasons. Tim set many records on the field and still holds the record for most passing yards in a season with 1613 and most completions with 106. Tim tragically died in a car crash shortly after his graduation from Alden.
Nathan Gontarz was inducted this year for his outstanding attributes in the swimming pool. Nathan graduated in 2003 holding six school records in the pool three of which still stand today. Nathan was also the Valedictorian of his class and attended West Point Academy where he was a 4-year starter for the Division 1 swim team. He graduated West Point in the top 5% in his class and is still and active office in the US Army.
Another class of 2003 graduate joined the ranks as well. Karen Kozub was a stand out in both Cross Country and Track. She was a starter on both teams beginning in 7th grade. Throughout her time at Alden she was a member of a 6 time Conference Championship Cross Country team and she qualified for the state meet all six years. In addition, for track, Karen holds 6 school records and was the national runner-up in the 1600m, which qualified her for the JV world team. She took her talents to The University of Central Florida where she qualified for several NCAA championships in bot Cross Country and Track.
The last inductee and latest graduate is Jordan Rutkowski class of 2008. Jordan was amazing in both sports of softball and basketball. She was named to the All-State team in softball twice in her career. Jordan also is the second leading scorer in Alden women's basketball history with 1161 points. After high school Jordan attended Valparaiso University to partake in their Division 1 softball program. While attending, she was a top 25 finalist for top Division 1 softball players in the nation.
Congratulations to all inductees this year. This induction class has been one of the strongest in Alden history.