Dear Freshmen: Some Advice from Upperclassmen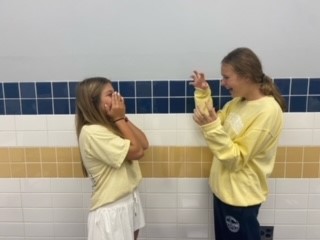 Going from being an 8th-grader who ruled the school to a freshman at the bottom of the food chain can be frightening.
Since we've all been through it ourselves, it stands to reason that the upperclassmen can give some advice to our own freshman class of 2026.
There are plenty of things you should know about going into high school, and sure, you may have been taught the basics during Freshman Seminar, but there are some things you just can't learn from a class. TV shows and movies can be very deceiving in the way that they portray high school, describing it to be a daunting class system. So, this September, Alden High School juniors and seniors stepped up to let freshmen know what is truly important about going into high school.
I interviewed a handful of students about that very question, and I couldn't agree more with the responses I received.
When asked about unfair stereotypes about AHS upperclassmen, junior Taylor Lavarnway's response made everyone around her burst out in laughter.
"That we're mean and scary, and that we push the freshmen into the lockers," she said. Along with this response, every other upperclassman I interviewed mentioned the same stereotype about being stuck up, and overall terrifying. But throughout this video, it is easy to tell that those stereotypes are completely untrue, and that there is no reason to fear us upperclassmen at all. All of the upperclassmen have been in your shoes, so just remember that high school takes some time to get used to, but when you are finally feeling comfortable, you'll look back and realize that there was nothing to be afraid of.
You got this freshmen, and I promise that you'll get used to the high school in no time.
Leave a Comment