"Alden Knights" Robotics Team Battles in Corning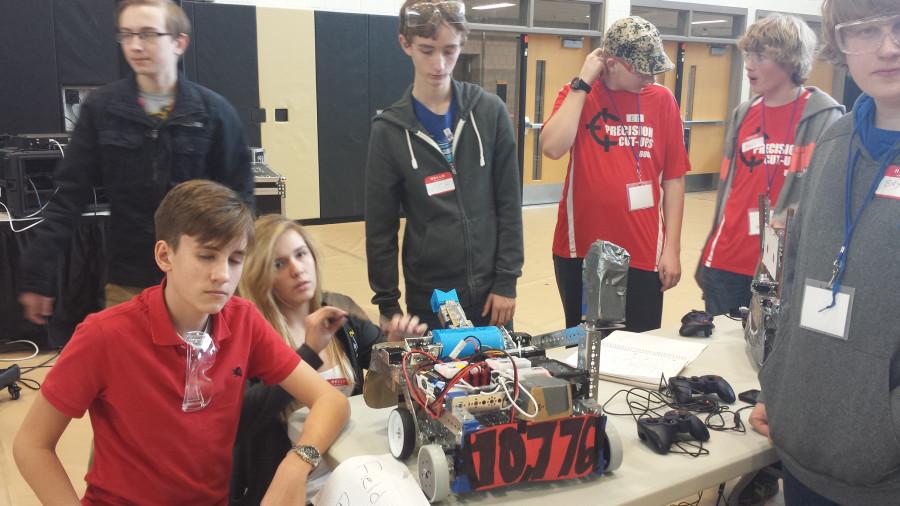 Staff, Staff
December 7, 2015
Our High School Robotics Team, the "Alden Knights", travelled to Corning, NY on Sunday for their Rookie Competition as a part of FIRST Tech Challenge.  Nine team members were able to make the journey and eight others helped in various ways during the last 2 months of preparation. The team meets several times per week and put in many long hour to design, build, program, and test the robots.  Many of the Robot's parts are completely unique and required teammates to get creative with their design, use Computer Aided Drafting to draw the parts, and then print it with the 3D printer.
The Alden Knights proudly earned 4th place overall in a field of 24 registered participants.  The excitement was incredible during the entire 9 hour competition which had several phases. First students go in front of judges and present their Robot along with their Engineering Journal that documents the planning, design, and fabrication process. The Robot was then analyzed to ensure it met all the material, dimensional, electronic and software requirements. Then the Alden Knight competed in 5 rounds of the "RES Q" competition. In each round, they aligned with another team and competed against two other teams. This format fosters teamwork and collaboration as the teams must quickly develop a strategy with their alliance partner to optimize scoring performance. Teams came from Pennsylvania, New York City, and other regions of our state.
The proudest moment for the day came when Alden won the "Motivate Award" for their evidence of dedication to Community Outreach and promotion of STEM (Science, Technology, Engineering, and Math) in the Alden Community. The team created a video (see WACS News) which demonstrated their work to support the Primary School PTO's Mother-Son Maker Faire event by planning and hosting rooms dedicated to Robotics, Coding, and Design. The team also took advantage of the opportunity to share ideas with engineers during the high school's recent S.T.E.A.M. Career Day.  Lastly, they have plans in place for working to promote Robotics in multiple ways in the Alden Middle School.
Congratulations to the Alden Knights!