Alden High School Hosts "Green Eggs & Ham Brunch"
Hang on for a minute...we're trying to find some more stories you might like.
On Sunday, January 28, Alden High School's Theatre Club will proudly host a "Green Eggs & Ham Brunch". The brunch is a fundraising event for Seussical, the high school's musical which will run February 8th, 9th, and 10th.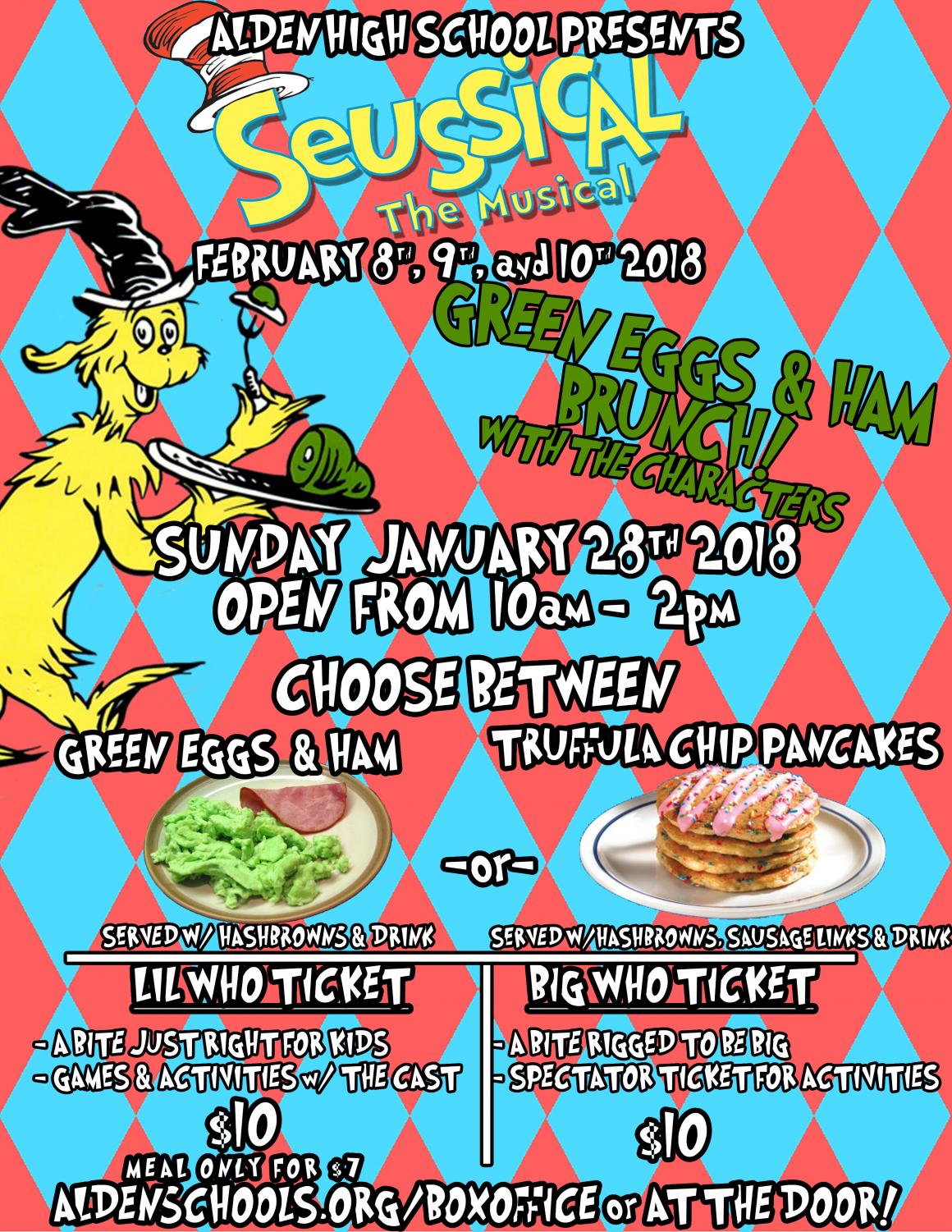 The "Green Eggs & Ham Brunch" will be hosted at Alden High School from 11am until 2pm, or until supplies last. The event has several components including, of course, brunch service with the Cat in the Hat and Jojo, as well as other cast members. Meal options are Green Eggs & Ham served with hash browns and a drink or Truffula Chip Pancakes served with sausage, hash browns, and a drink. Lil' Whos (childrens) meals are just $7 while Big Who (adult-portioned) meals are $10. If you're looking for more family fun, you can participate in storytime with Gertrude, a dance party with Mayzie, games with Horton, coloring and crafts with Sour Kangaroo, and you can meet and take pictures with all your favorite characters including the Cat in the Hat! The ticket for activities alone is just $5 per child. The best value for the event is to participate in both the brunch and activities for $10 per Lil' Who. Your event ticket will be checked at each station.
Given the success of last year's "Be our Guest Brunch", the production team expects this event to be very well attended, so it is recommended that you purchase your tickets in advance to skip the line at the door and guarantee your spot! You can purchase your tickets online, print them out, and bring them with you on January 28th by visiting aldenschools.org/boxoffice.
Tickets for the full production of Seussical at Alden High School will also be sold during the event at the box office with a senior citizen discount and special pricing. We would be honored to have you as our guest to support the Alden High School theatre program!