Budget 2019: New York State Budget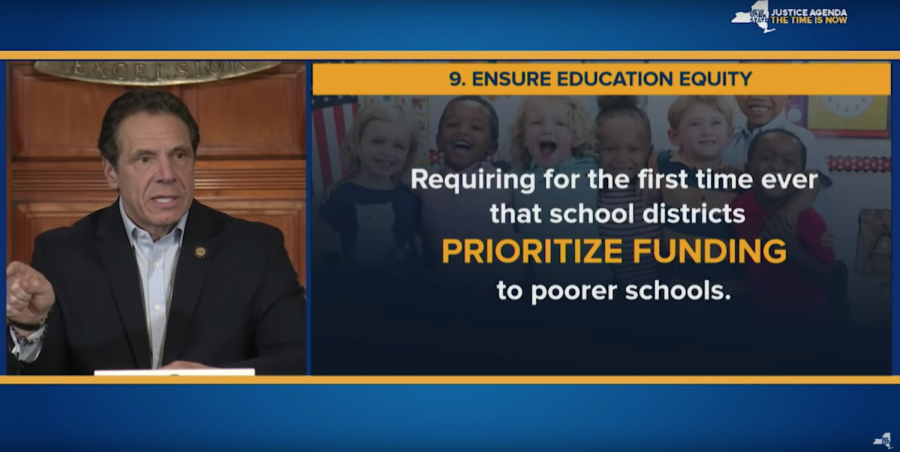 Samantha Bizub and Hannah Whiteford
April 17, 2019
Governor Cuomo's proposed State Budget for the 2019-20 year was recently passed. This budget provides New York schools a $27.9 billion dollar for the 2019-20 school year, which is a one-billion-dollar increase from the current 2019 budget. Overall, we've seen a 36% increase in school funding since 2012. While that sounds great for schools, it's not quite the case for schools like Alden. Although there was an increase in aid, that doesn't mean Alden will reap extreme benefits. Governor Cuomo updated some of his requirements for funding which will prioritize lower-income schools. The schools who will be receiving this extra funding are classified as Title One schools. For a school to reach the criteria of a Title One school, 40% of the families must be low-income and qualify for the free or reduced lunch program.
The state aid estimate is broken up into nine different categories, Foundation aid, Transportation Aid, BOCES Aid, Public Excess Cost Aid, Private Excess Cost Aid, Hardware Aid, Software, Library and Textbook Aid, Building Aid, and Supplemental Public Excess Cost Aid.
The total projected state aid has a 1.15% increase over the prior year, which is $159,259, but that increase does not cover the gap when it comes to the operating budget for the district. Going into further detail regarding the distribution of state funding. The district is receiving $106,342 increase of Foundation Aid; however, higher need districts are receiving more aid based on district poverty rates, district wealth and general enrollment.