2019-2020 Budget: Numbers and Figures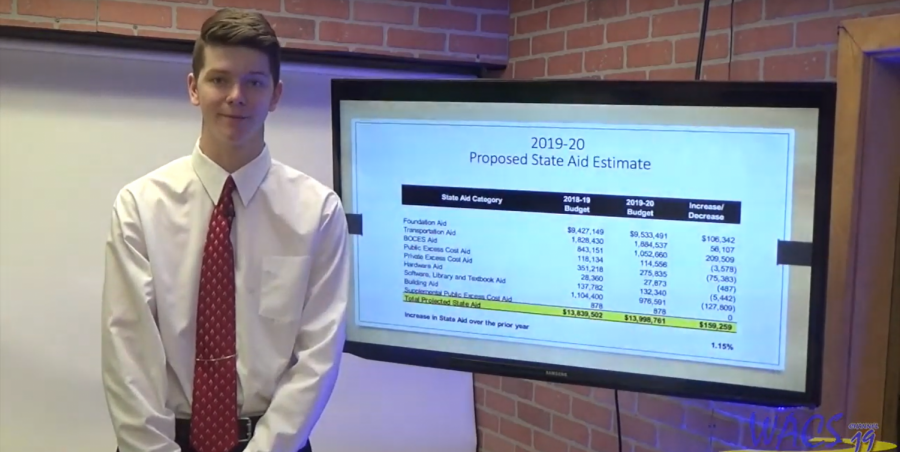 Carolyn Freeman and Timothy Hinsken
May 9, 2019
The operating budget for the 2018-2019 school year was $33,972,380. This year, the proposed budget has increased by 1.96% coming in at $34,639,105. The good news is the proposed tax levy is lower from the originally proposed tax levy, which was set at 3.23%. The new proposed tax levy is at 2.79%. 
When it comes to the Preliminary Expenditure Budget, general things the district needs to spend money on, that's seen here, there has been an increase of 1.96% between the 2018-2019 and the 2019-2020 budget. More specifically, the 2019-2020 budget is $666,725 more than the 2018-2019 budget. 
For the 2019-2020 budget, with the tax levy increased to 2.79%, residents within the Alden Central School District whose house's value is $100,000 should expect an increase in their taxes of roughly $31.35 for the year.  A house valued at $150,000 should expect an increase in their taxes of roughly $53.75 and houses valued at $200,000 would be looking at a tax increase of roughly $76.15. 
Adjustments to the 2019-2020 Budget include savings from teacher's retirement, staffing due to enrollment, furniture for the library to accommodate the One to the World initiative, and the reduction of pool hours due to construction. 
If you look at the Preliminary Expenditure Budget as of February 7, 2019, it shows the adjustments to the budget that involve saving or spending money. Values that have parenthesis on each end are amounts that the district is saving from various aspects such as teacher retirements, saving the budget $58,369, or staff adjustments, saving the school $80,874. 
Adjustments without parenthesis are amounts that are being added to spend on the budget, such as Unemployment costs, adding $46,800 to the budget, and Health Services, adding $13,271. In total, after all adjustments are combined, there is a total savings of $183,504. These savings allow the District to set the tax levy lower than it would be without these adjustments. 
The revised budget as of April 4, 2019 is set at $34,639,105. You can see that the Alden administrative team has made further reductions to close the gap from the original $34,663,010. 
The following chart shows where the district receives funds from in order to cover the expenses detailed in the budget. The combination of state aid, county sales tax, various local and federal sources, fund balances, reserves, and property taxes have contributed $666,725 more than the 2018-2019 budget. 
Also, there was an unexpected increase in state aid this year. With this increase, the state aid provided to Alden Central School District has increased by $159,259, a total of 1.15%, setting the new state aid funds to $13,998,761. In addition to this increase of revenue, the district is saving money in categories such as software, library, textbook aid, and building aid.