Importance of Alden Social Media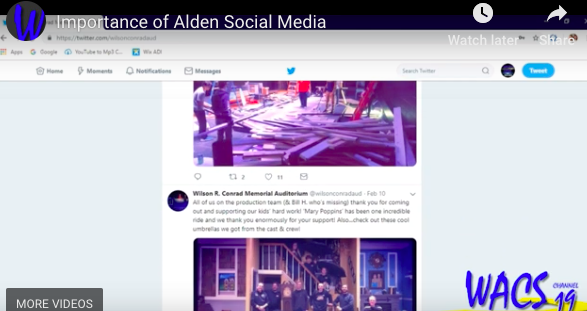 Alex Rozbicki, Social Media Manager
June 14, 2019
When you scroll on Facebook or Twitter, how much advertising do you notice? Probably a lot. Over 3 billion people on Earth are active on some form of social media, but those who benefit the most are businesses and companies.
Over 90% of businesses use social media – the most common being Facebook & Twitter. On Facebook, they can pay to boost their posts so that more community members can see the content.
WACS News uses social media similarly. Although, there are many, many Twitter & Facebook accounts that Alden has. Alden Central School District uses Twitter mainly to spread content relating to specific clubs, sports, & activities happening inside and outside of the school.
Even Alden's ATLAS Team uses Twitter to give students a behind-the-scenes look at what it is that they do. The Wilson R. Conrad Memorial Auditorium is similar, as it posts and shares content such as show announcements & a peek at what exactly goes on. This content is adored by Alden Community members as they can keep up with what their children may be doing & get informed on what events are happening in town, so there's a reason WACS News is called the #1 News Source for the Alden Family!
It really helps students if they stumble upon a post from one of the clubs of Alden's social media accounts. That student who discovered the post is then able to learn what goes on in that particular club and they may become interested in more clubs & activities.
Also, social media use helps businesses as it makes them feel more human-like. Who could forget Wendy's spicy Twitter roasts? If someone likes what they see, they can share your page, resulting in tons of views & followers. Who wouldn't love that?
There are even more social media outlets out there, such as Instagram & Snapchat that are rapidly gaining popularity. There are tons of options for businesses to use!
As the Social Media Manager of  WACS News, I learned a ton about what it is that makes social media so desirable.