Girls Soccer Fist Sectional Game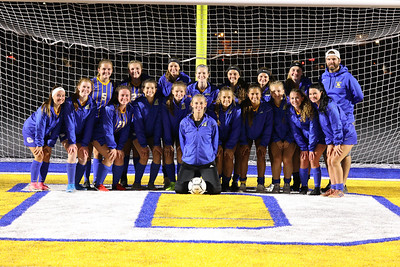 Luke Drew, Producer
November 1, 2019
Hang on for a minute...we're trying to find some more stories you might like.
For the first time since 2003 the Alden girls' varsity soccer team are ECIC IV division champions with many key players like Alexis Grassel, Alyssa Attardo, Shannon wypij, Ava Eichensher, Grace Pastuszynski, Emma martin and with many more. Alexis Grassel broke the school record for the most shutouts in one soccer season with 10 shutouts last season. The lady bulldogs come into their first sectionals game Friday with lots of confidence. They face the Springville griffins home. Come support you lady bulldogs. As last year, the bulldogs made it to the semifinals, they hope to win out in their class division. I emailed coach Olaf about the season, and here's what he responded with:
'It feels great.  We have a really hardworking group of girls this season who all want to win and will do anything it takes to achieve it.  Being my first division championship, I am trying to soak it all in for as long as I can.  I'm sure all the girls are doing the same thing.  This week however, our focus is going to be carrying our momentum from the division title into sectionals, where we can hopefully do what the 2003 team did and win the section.  Knowing we are champions, we know other teams (especially ones inside our own division) will be setting their sights on us hoping to bring down the champions.  We have to be mentally prepared for our game on Friday, home vs Springville 6pm.  Just because we have beat them twice this season, does not mean by any means that this is a guarantee.  If we stick together as a team, force Springville to play our brand of soccer, I have all the confidence in the world that we will be playing on Tuesday at Williamsville North.
Something that has recently gained attention is how much Ava Eichensehr means to our team success.  She leads the team in points, mainly with her 20 assists, but she is also a key piece for us in the middle of the field.  She constantly wins the 50/50 balls and regains control of the ball for our team time and time again.   On the back end, Emma Martin has been solid again for us this year.  She is the leader on the field, puts her teammates in the best position to succeed and knows when to be aggressive to steal the ball away from the opponent.'