Alden reopening in local news spotlight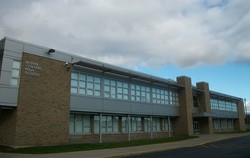 Dylan Zielinski, WACS Staff
September 10, 2020
With Alden Central School District opening schools for the first time since the beginning of the Covid-19 pandemic, the district has been getting a lot of news coverage from local news outlets. The Buffalo News, Channel 4, and Channel 7 have been the main channels reporting on the school's reopening.
On the first day school with students actually in the building, Channel 7 came into the High School and got interviews with High School principal Kevin Ryan as well as superintendent Adam Stoltman. "Our community wanted kids back in school," Stoltman said.
When New York State announced that schools could reopen in the fall, News 4 wanted to know what this school year would look like in Alden Schools. Reporter Sarah Minkewicz got a firsthand zoom meeting with superintendent Adam Stoltman.
One of the main problems the school district had to face this year was transportation. The Buffalo News ran an article about how Alden is attacking bus transportation this year. Reporters Barbara O'Brien and Jay Rey got an interview with superintendent Adam Stoltman.
"Our buses are definitely nowhere near full capacity," Stoltman said. Check out the article here.