Alden Aquatics Center Reaches Construction Milestone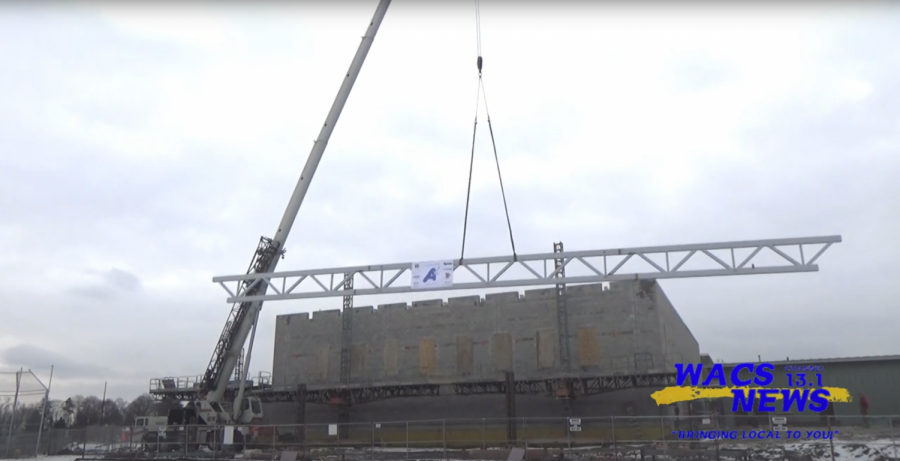 WACS News Staff
December 30, 2020
In late December, as students began their winter break, the largest construction project in the Alden Central School District's recent history passed a major waypoint.
A crane lifted the final truss onto the frame of the newly constructed ACS Aquatics Center, closing out an important phase of the project and moving the district closer to its expected completion in August. The project promises to serve as a state-of-the-art resource for the entire Alden community as well as a boost to the district's athletic programs.
ACSD Superintendent Adam Stoltman called the milestone "an incredible feat" at the end of a difficult year for the district.
"I remember back in March meeting with our construction manager and architects and looking for some sort of direction," Stoltman said. "We didn't know where the pandemic would take us, and the fact that we were able to continue to move forward and keep this project on schedule is going to be an incredible opportunity for our entire school community come next August."
For Alden High School Assistant Principal William MacCowan, the installation of the final truss on the aquatics center is a feather in the district's cap.
"When I look at our school campus, the changes that have been made, from the turf field, to the track, to science rooms, to the loop over at the primary school, and now our Aquatics Center, it's really come full-circle," MacCowan said. "I can't wait for this summer for it to be open for our kids and our community."