Alden HS Presents: "Spook House"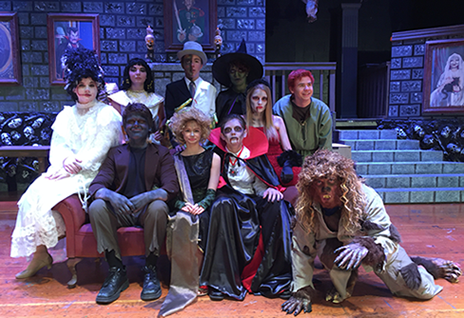 Staff, Staff
November 2, 2015
We are just one week away from the curtain opening on Alden High School's fall play, 'Spook House'! 'Spook House' is a "creepy comedy" written by Billy St. John about ten misunderstood monsters that all live in the same house, protected from the outside world. However, when Tax Assessor and descendant of the vampire slayer Abraham Van Helsing VI (Max Gucinski) and monster movie producer Monica Myers (Mallory Ronan) try to take their property away to build a movie studio, the monsters and direct descendant of Henry Frankenstein, Victoria Stein (Paige Rzepka) along with her boyfriend, Roger Davis (Carl Farrell), decide to throw a party in order to raise the money to save the house. Things get even more complicated when a bank robber, Bert (Dustyn Grunthaner), his "moll", Molly (Hanna Kozma), and two cops, Officer Percy Dalton (Tim Hinsken) and Sergeant Martha Jones (Alex Burdett) get mixed up in the hullabaloo.
This play has been the talk of the Alden school community recently with impressive spooky set designs, stunning original costume work, a hilarious script and impressive technical elements.
Mr. Matt  Masci (Co-Director) has said that "this show isn't well-known and we like that. It allows us to take this incredibly funny show and deliver the story to an audience who doesn't have a preconceived idea of what it should be".
Mr. Masci went on to say that Mrs. Amy Froebel (Costume Director) has worked tirelessly on creating monsters completely from scratch and that his good friend Bill Holdsworth (Special FX Makeup Volunteer) has worked with a student team to really take those characters to another level of professionalism.
Mr. Masci credited volunteer builder Tom Northem saying he "has truly outdone himself with this show" in bringing the creative set design vision to life and that it is one of the "most detailed sets we've ever created together".
Mrs. Jill Farrell (Co-Director) has been working incredibly hard at staging this show and developing the monster characters while Mrs. Lori Gramza (Volunteer Choreographer) has been teaching them how to dance at their monster party.
Dress and tech rehearsals are in full-swing and the students and production team are working hard on the final details in hope that the community will come out in strong numbers to support their performance. 'Spook House' will be performed at Alden High School on November 12, 13, and 14th at 7pm with a matinee Saturday at 2pm.  Tickets are $10 at the door for general admission and $8 for students and Senior Citizens. Check out the 'Wilson R. Conrad Auditorium' Facebook page for more information.