Youth Adult Change Maker Academy Comes to AHS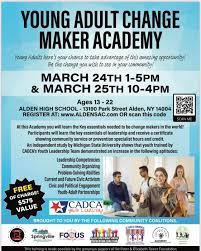 Wondering how you can become a great leader here at Alden High School? The Alden Substance Abuse & Prevention coalition was awarded a grant to offer an amazing opportunity to young leaders on March 24 and 25.
The mini CADCA conference gives students an opportunity to strengthen their leadership skills and gain the education to become a changemaker in Alden's community and their lives.
If you're looking to sign up, there should be a link in your email. If there isn't, you can contact Mrs. Mertz, Gowri Demay, Alex Lysiak, Maddy Uhrich, or Anthony Kudla.
Mrs. Mertz is looking for any student who wants to become a leader and get involved in our community.
"It's going to teach you tools to be a leader, it's going to let you have a voice, and get involved in different activities," she said. "We're looking for a great turn out. We'd love to have you involved!"
Thank you for considering this conference, and we hope to see you there.
Leave a Comment