Alden HS Students Take Trip to Spain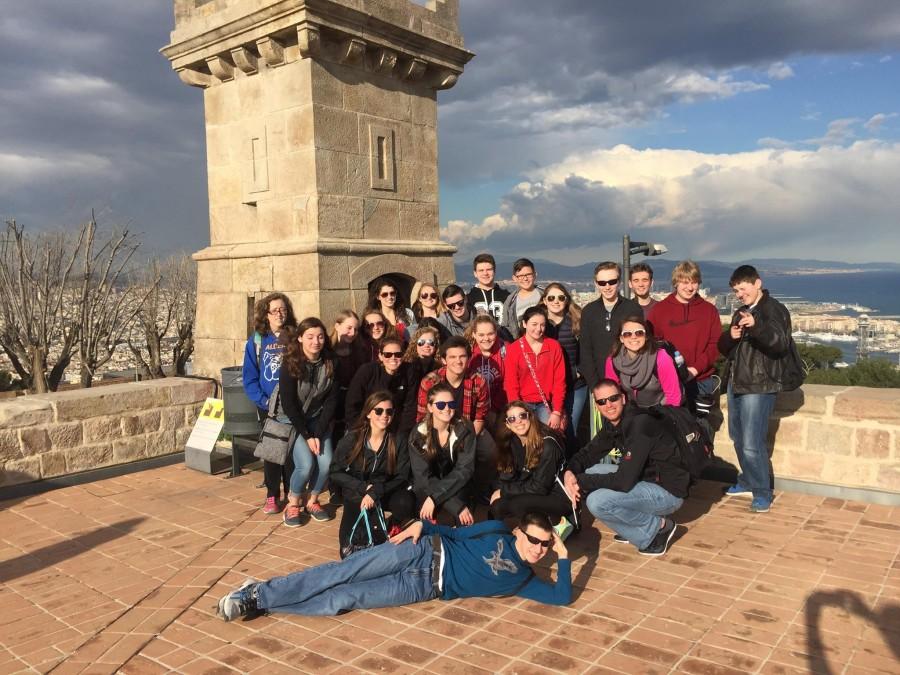 Staff, Staff
February 29, 2016
During the mid-winter break in February, a group of 24 students and 4 faculty chaperones from Alden High School attended a school-sponsored trip to Spain. This trip was open to all students who are currently taking or have taken a Spanish class in the past. Planning began back in September of 2014. The group began their journey in Barcelona on the Mediterranean Sea. They toured the city and visited Montjüic Castle, el Pueblo Español, the famous street of Las Ramblas, and the masterpieces of Spanish architect Antoni Gaudí, la Sagrada Familiaand Park Güell. Some Students are already planning a return trip for 2026 to see la Sagrada Familia completed.
Following the visit to Barcelona, they made their way by bus stop to Madrid with a quick stop in Saragoza. In the capital city of Madrid, they took in the city life and sent time in la Puerta del Sol and la Plaza Mayor. They also had the opportunity to take a flamenco dance lesson and view a live performance. A visit to the Royal Palace and the world-renowned Mueso del Prado gave the group an appreciation for Spanish history and culture. From Madrid they took a day trip to Toledo, the former capital of Spain known as the Imperial City. With stunning views, multicultural architecture, and a world-famous Damascene sword and jewelry factory, it was a city they won't soon forget.
Throughout the trip the group enjoyed themselves in the local culture by eating at different restaurants and shopping at local markets. They enjoyed several meals of tapas including tortilla española and the celebrated jamón from Spain. They were also able to visit local food markets that are often frequented by the king and queen of Spain themselves!
Aside from these amazing sites and activities, students and chaperones experienced the adventure of world travel. By visiting these places, and interacting with the people they gained insights and experiences they could't have gained from a textbook or in the classroom. Global awareness is more essential that ever, and the best way to become globally aware is by traveling abroad to experience it first hand. by engaging with this new culture, all travelers not only learned about the world around them, but also about themselves. Of course they couldn't have learned all they did if it weren't for the advice, experience, and recommendations of their local tour director, Jesús Ruiz. Miss Ziegler would like to thank her chaperones, Mr. Kern, Mrs. Santiago, and Mrs. Williams, for their dedication to the welfare of the students on this trip. She would also like to thank Mr. Ryan, Mr. Stoltman, and the Board of Education for their support of this trip throughout the entire planning process. Olé!