CSI: Alden-8th Graders are on the Case!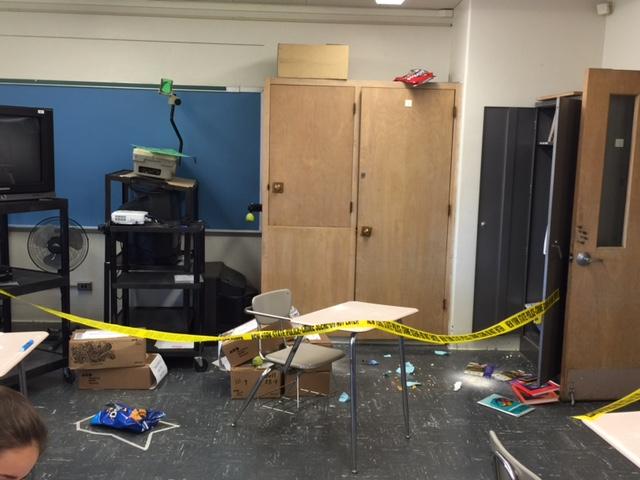 Staff, Staff
June 17, 2016
A terrible crime has been committed!  Someone has stolen Mrs. Palizay's and Mrs. LaBar's Nacho Doritos from room 345.  Mrs. Palizay brought in some Dorito's to Mrs. LaBar as they celebrated their last day of study hall in room 345.  They had an extra bag of Doritos so they placed them in the cupboard.  When Mrs. LaBar came in today she found the room in a shambles and the Doritos were missing.  Mrs. LaBar called Mrs. Palizay to tell her about this tragic event! The Doritos were gone!  Mr. Smith better get to the bottom of this or they will never do another study hall duty again!
Luckily, the students in Mrs. Gauthier's class have been studying forensics for 3 weeks.  In that time, they have used similar techniques that forensic scientist use to solve crimes.  Today, on exam day, students are able to demonstrate the skills they learned to solve a crime that Mrs. Gauthier fabricated here at Alden Middle School referred to as "Nacho Yo' Chips".  
Students analyze evidence as they move room to room to help solve this crime.  Our suspects: Mr. Burkhardt, Mrs. K. Smith, Mrs. Kerl, Mr. Partell, Mrs. Zelasko, and wrongly suspected  Mrs. Gauthier.
CHECK OUT THE GALLERY: