Boys' Varsity "Under the Lights" Game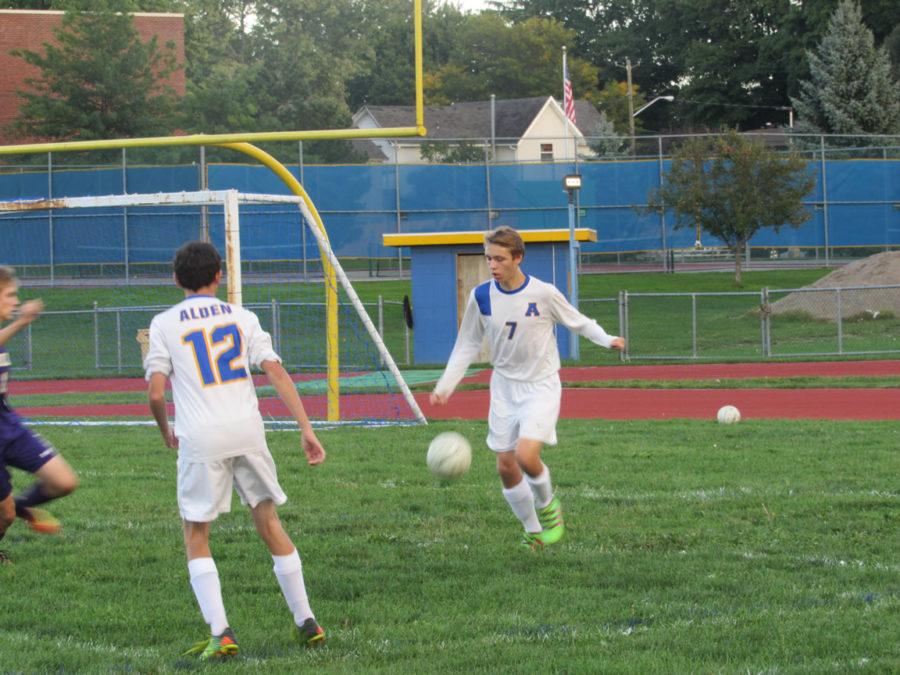 Staff, Staff
September 26, 2016
The Holland Dutchmen came to the "Dog House" for a divisional game on Alden's Senior Night.  This was the annual "Under the Lights" game played on the football field.  Fan turnout was outstanding as many players and families came after the earlier boys soccer games when JV beat Holland 2-1 and modified shut-out Cheektowaga 4-0.
Seniors Jimmy Jablonski, Dominic Sabia, Conrad Boucher, and Nathan Nuwer are all returning players for the Bulldogs and were excited to share this big game with their families that came out for the senior Recognition before the game.
The Bulldogs dominated possession early and scored first as Nate Nuwer buried a shot fed to him from Jeremy Jeziorski inside the goal box.  The offense kept the pressure on and Nate found the goal again off a nice cross from Max Penke. The central defenders Owen Kissell and Zach Long worked with a mix defensive wing backs Trevor Fitzgibbon, Matt Schuh, Adam Wood, and Jimmy Jablonski to help goal keeper Justin Evoy keep the ball out of Alden's net for the first half.  The center of the field was controlled by Conrad Boucher, Ashton Wilson, and Dominic Sabia.  The Bulldogs made the score 3-1 as Nate earned his hat trick with a nice left footer chip from 25 yards out.  Holland answered with a goal a few minutes later. Jeremy Jeziorski put the game out of reach with an insurance goal in the 70
th
 minute off a nice through ball from Nate Nuwer.