Boys Varsity Soccer Starts with Five Wins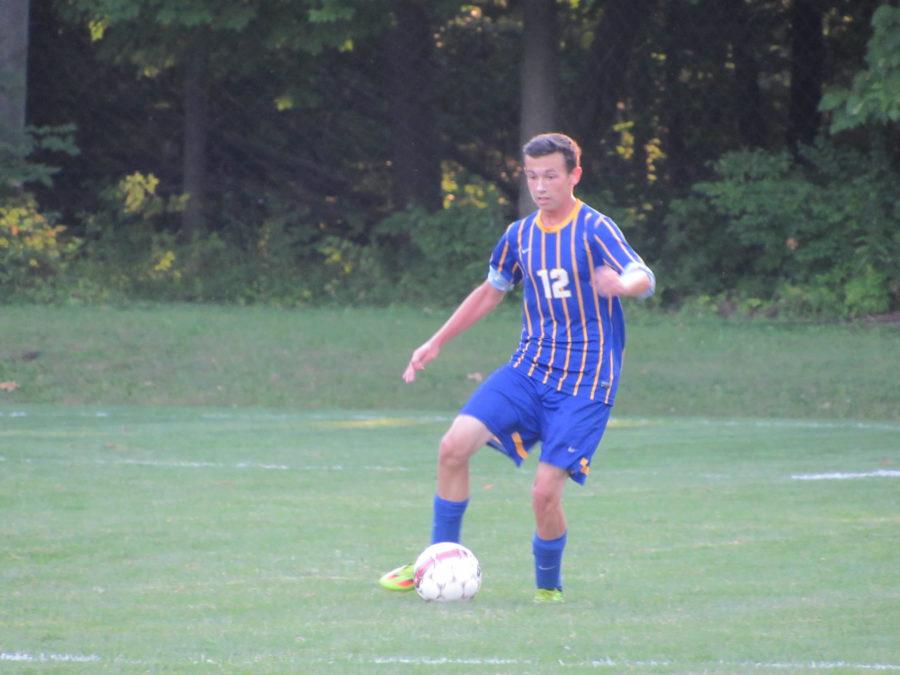 staff, staff
September 26, 2016
The Boys Varsity Soccer team opened the season with a very solid 6 to 1 victory over Attica. The Bulldogs took a little time to get into the rhythm until Max Penke converted a pass from Owen Kissell into the season opening goal in the 28th minute. Nate Nuwer added a goal 4 minutes later off an assist from Jeremy Jeziorski. Max Penke completed his hat trick with 2 assists from sophomore holding midfielder Ashton Wilson who ended the game with 3 assists. Jeremy Jeziorski added a goal in the 55th minute, assisted by Bradley Kibler. Nate Nuwer capped off the scoring for Alden with 15 minutes left in regulation. Goal Keeping duties where split between Alex Leigh and Justin Evoy. All the Alden players got substantial playing time to contribute to the win. The defensive center backs, Zachary Long and Owen Kissell, along with wing backs Trevor Fitzgibbon and Matthew Shuh played extremely well together showed attacking skills while balancing their defensive duties.
The team then travelled to Holley (near Rochester) for their annual tournament. The first round was against Batavia and the Bulldogs kept their scoring ways rolling with another 6 to 1 win. Bradley Kibler drilled in a shot off a perfect pass from Max Penke in the 17th minute. Brad then assisted on a Nate Nuwer goal 2 minutes later. Suddenly it was all Alden in terms of possession and shots on goal. Nate added a couple more for his first hat trick of the season and Ashton Wilson helped with his 2 assists for the day. Andrew Long knocked a nice goal in the 38th minute assisted by Conrad Boucher who added a goal of his own 1 minute later. A thunder delay of 30 minutes was the only way to stop the lightning quick attack of the Bulldogs and earn them a spot in the Tournament Championship versus Holley.
In a very physical match up against Holley, the 1st half was all Alden. With Justin Evoy making a few critical saves in net, the Bulldogs kept the pressure on their opponent. Nate Nuwer capitalized on nice Ashton Wilson pass in the 13th minute. Jeremy Jeziorski added two goals and Brad Kibler. Adam Wood had an amazing game at right wing back to help Owen Kissel, Zachary Long, and Trevor Fitzgibbon defend the goal and secure the win.
The Bulldogs fell behind for the first time this season in their opening divisional match against Eden as the Raiders scored in the 12 minute. However, the second half was dominated by Alden starting with Jeremy Jeziorski finishing two goals in 3 minutes off assists from Nuwer and Kissell. Max Penke added a goal with five minutes left when Matt Shuh sent him a perfect long ball from half field to lock in the 3 to 1 win.
The game in the opening win streak was against Springville. Justin Evoy and the defense earned the team's first shutout with a convincing 5 to 0 win. Everyone on the roster got playing time and saw nice contributions from Jimmy Jablonski, Dominic Sabia and Frank Lewalski. Nate Nuwer set a single game assist record with 4 assists on goals by Jeziorski, Penke (2), and Kibler. Jeziorski closed out the scoring off a Matt Schuh assist.
The varsity team is positioned well for a nice season as recognized by their current rank of 4th best team in WNY Small School's coaches Poll, the highest ranking for Alden in over 10 years. With a starting line up of 2 seniors, 7 juniors, and 2 sophomores, the team has time to improve and seeks to improve on the
success from last season. Come out and see the boys take on rival Lackawanna this Thursday at home at 4:30.