The West "Dun" Right
The fall play was a real knee-slapper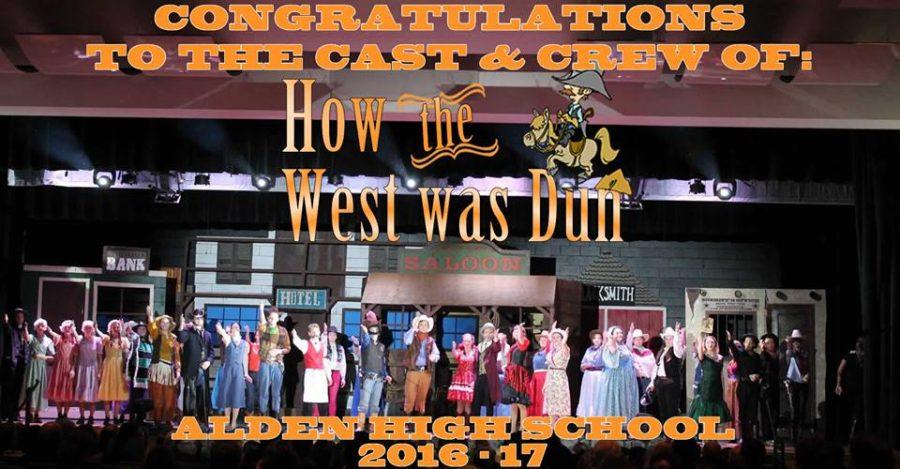 Jill Peruzzi, Senior Reporter
November 30, 2016
Alden High School's theater program has added another production to their impressive list of successes. Under the direction of Mrs. Jill Farrell and Mr. Matt Masci, How the West Was Dun was one of the most comical shows yet. The auditorium was alive with laughter during their four performances on November 17th, 18th, and 19th as well as the previews on the 16th.
The drama in Low Humidity Chasm began when the sly Richard Coldheart (Carl Aldinger) arranged to marry Polly Wanda Cracker (Paige Rzepka) in order to gain control of her property. This caused great dismay to Polly and her mother, Widow Cracker (Lizzie Giglia). Fortunately, the clever saloon owners, Sarsaparilla Sal (Brooke Meyer) and Bo Best (Carl Farrell), were able to come up with a plan to deceive Coldheart into marrying Polly's over-enthusiastic sister, Prunella (Erin Urbanski), instead.
More humorous conflicts arose between Sheriff Wayne John (Dylan Kiener), the absent-minded Deputy Doowrong (Ian Johnson), and a wacky group of villains. These funny felons consisted of Snydley Dastardley (Everett Gilbert), Belle Star (Jocelyn Borynski), Schizophrenic Kid (Brooke Strausbaugh), Kid Kid (Kerri Wilson), Calamity Jane (Anna Dussault) – the "e" is silent, Black Bart (Cameron Eastland), and Blacker Bart (Zach Bennett). As soon as they were captured by the heroic sheriff, the villains flashed their "get out of jail free" cards, but ended up relinquishing their evil ways anyhow.
Other charismatic characters included Cowboy Bob Scratchit (Tim Hinsken), the Lone Stranger (Erica O'Connor), and Reverend Right (Tim Hoy). A "harmonious" quartet of sisters called the Indianians also paid a visit to Low Humidity Chasm. The band included April (Sam Bizub), May (Anna Yoerg), June (Kirsten Lerner), and August (Lily Hart). Furthermore, Mr. Kevin Edward gave a truly outstanding performance as the invisible narrator.
The Western accents alone were enough to make anyone smile, but the witty lines and hilarious delivery by the cast had some audience members in tears. A few of the most amusing moments included the villains' strike, which consisted of picket signs (including an actual picket fence) displaying messages such as "Krusty Krab is Unfair." Not to mention the villains' struggle to keep the obnoxious April as a hostage. Sheriff Wayne John and Cowboy Bob Scratchit also had a remarkable rendition of "Home on the Range." Additionally, Deputy Doowrong's losing battle to pronounce the word "sophisticated" was a real crowd-pleaser.  The town census brought the house down with ensemble members named after teachers. Coldheart had priceless comments for each citizen, such as being shocked that Lori Gramza was "still alive", while she responded that she had "just retired".
The dedication, talent, and professionalism of the cast and crew made for an incredibly enjoyable show. Participants celebrated with a well-deserved party consisting of a mechanical bull and an obstacle course. The director team is now preparing for perhaps one of the most detailed productions in recent years, Disney's Beauty and the Beast. The Disney classic is set to hit the stage on February 9th and casting is currently underway!