Alden High School Plans a "Be Our Guest Brunch" for Winterfest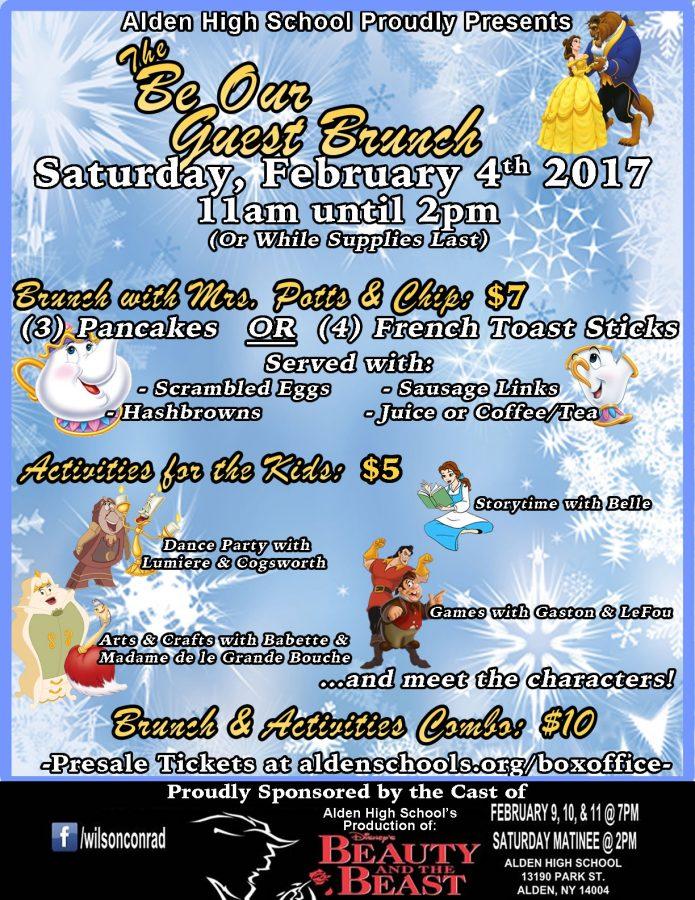 Staff, Staff
January 4, 2017
UPDATE: This event has been updated to run from 11am-2pm due to a conflict with Winterfest.
On Saturday, February 4th, Alden High School's Theatre Club will proudly host a "Be Our Guest Brunch" as part of the many activities that make up the community's Winterfest celebration. The brunch is a fundraising event for Disney's Beauty and the Beast, the high school's musical which will run February 9th, 10th, and 11th.
The "Be our Guest Brunch" will be hosted at Alden High School from 11am until 2pm, or until supplies last. The event has several components including, of course, brunch service with Mrs. Potts and Chip, as well as other cast members. Meal options are 3 pancakes or 4 french toast strips both served with 2 scrambled eggs, 2 sausage links, hashbrowns, fruit juice, coffee, or tea for just $7 per person. If you're looking for family fun, but don't have an appetite, you can stop by and participate in storytime with Belle, a dance party with Lumiere and Cogsworth, games with Gaston and LeFou, coloring and crafts with Babette and Madame de la Grande Bouche, and you can meet and take pictures with all your favorite characters including the Beast himself! The ticket for activities alone is just $5 per child. The best value for the event is to participate in both the brunch and activities for $10 per person. Your event ticket will be checked at each station.
The production team expects this event to be very well attended, so it is recommended that you purchase your tickets in advance to skip the line at the door and guarantee your spot! You can purchase your "Be Our Guest" tickets online, print them out, and bring them with you on February 4th by visiting aldenschools.org/boxoffice.
Tickets for the full production of Disney's Beauty and the Beast at Alden High School will also be sold during the event at the box office with a senior citizen discount and special pricing and gifts for guests under 10 years old. We would be honored to have you "be our guest" at this special event promoting a "tale as old as time".