AHS Presents: "Tarzan" The Musical
Tarzan will be swinging live on stage!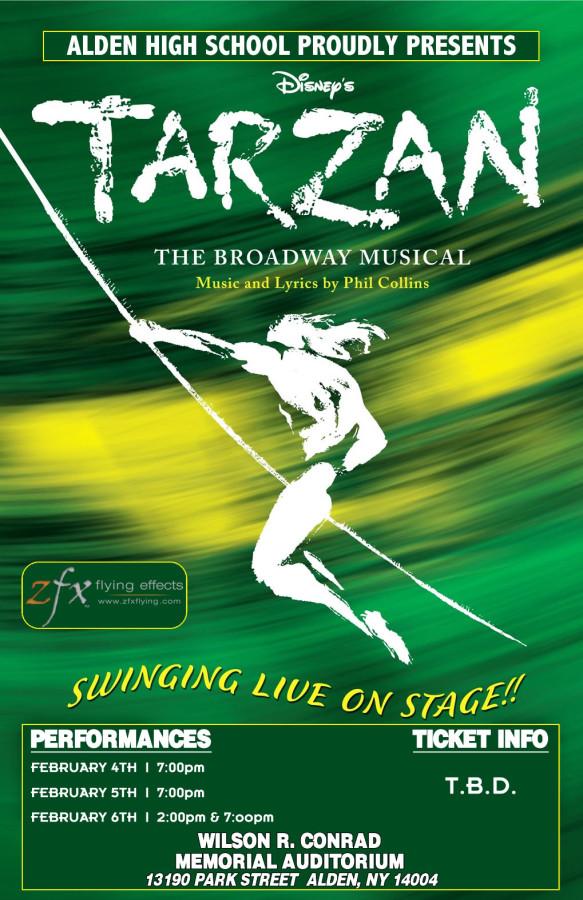 Staff, Reporter
July 29, 2015
It was announced this Summer on the 'Wilson R. Conrad Memorial Auditorium' Facebook page, but if you missed it, here are some of the details. WACS News has reached out to the musical group and has learned the following:
WHO'S DIRECTING THE MUSICAL?
Although recently retired from teaching at AHS, Mrs. Lori Gramza will be returning to Direct and Choreograph this year's musical. Alongside her will be Mrs. Jill Farrell returning as the Vocal Director, Mr. Bill Larrabee returning as the Pit Band Director, Mr. Matt Masci is back as the Technical Director,  and Mrs. Amy Froebel will be back as the Costume Director. This directing team, along with a recently brilliant cast, has produced some very incredible shows over the last few years, so its great to see them all back!
WHAT IS THE MUSICAL?
As we mentioned above, AHS has selected Disney's 'Tarzan' as this year's musical. "Tarzan" is the first Disney musical Alden has done since Beauty and the Beast in 2008. AHS hopes that choosing a Disney show will excite the younger audience as well as the "young-at-heart" audience. "Tarzan" will be very similar to the movie that you many have grown up with as a young kid featuring music of Phil Collins, animated set design, modern choreography, brilliant costuming, and incredible special effects.
SO, IS HE FLYING?! AND HOW GOOD ARE THESE SPECIAL EFFECTS
The directors don't want to give too much away just yet. But, they promise a wide-range of special effects that have never been used yet on stage including flying effects. The Technical Director, Mr. Masci, confirms that:
"…we are very excited to be teaming up with ZFX Flying Effects for this production. ZFX is a world-renowned flying effects company that has experience from concerts, award shows, TV shows, movies, and theater from across the globe. ZFX will work with us to create an incredible visual experience on stage. ….the audience can expect to see Tarzan and some of his friends swinging live on stage…. As far as the other effects, we don't quite want to give that away just yet"
WHEN CAN WE BUY TICKETS
It's obviously still very early on, so tickets are not on sale yet. We will update this story when tickets are available.
"Tarzan" is set to hit the stage February 4th at 7pm and will run February 5th at 7pm, as well as 2 shows on February 6th at 2pm and 7pm. There is also still a fall play. However, details are not announced as of yet.