Alden High School Gears Up for Disney's Beauty and the Beast With a Preview Event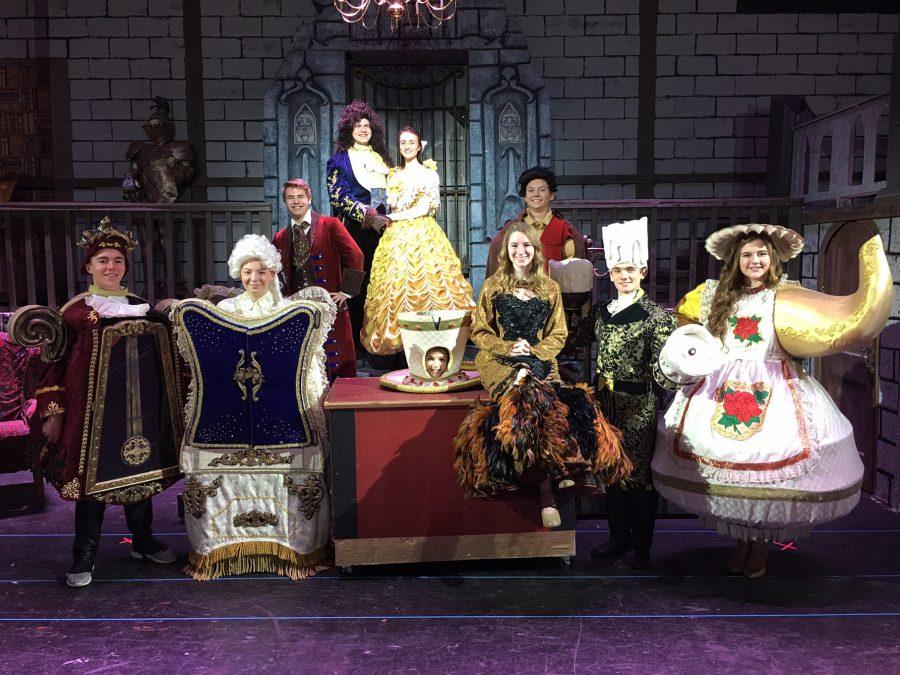 Tim Hoy, News Producer
January 29, 2017
Alden High School is gearing up for another smash hit musical! The High School Theatre Club invites you to step into the enchanted world of Broadway's modern classic Disney's Beauty and the Beast!  Based on the Academy Award-winning animated feature, the stage version includes all of the wonderful songs written by Alan Menken and the late Howard Ashman, along with new songs by Mr. Menken and Tim Rice. The original Broadway production ran for over thirteen years and was nominated for nine Tony Awards, including Best Musical.
The classic story tells of Belle (Paige Rzepka), a young woman in a provincial town, and the Beast (Everett Gilbert), who is really a young prince trapped under the spell of an enchantress. Also under the spell are Lumiere (Carl Farrell), Cogsworth (Carl Aldinger), Babette (Brooke Meyer), Madame de le Grande Bouche (Jocelyn Borynski), Mrs. Potts (Brooke Strausbuagh) and her son Chip (Lily Hart & Mason Appleton). If the Beast can learn to love and be loved, the curse will end and he will be transformed into his former self. But time is running out. If the Beast does not learn his lesson soon, he and his household will be doomed for all eternity. Along the journey, the Beast faces conflict with Gaston (Dylan Kiener) who works with his sidekick LeFou (Ian Johnson).
The High School has been on a quest to continuously improve our showmanship over the course of the last several years and this production is no different. This "tale as old as time" is filled with spectacular Broadway-quality costumes and sets. Technicians have been working behind the scenes to provide incredible lighting and sound design that truly ties the show together while modernizing it along the way.  Disney's Beauty and the Beast offers a great opportunity to bring your entire family together to experience theatre at its best for all ages. The performance is February 9th, 10th, and 11th at 7pm with a matinee Saturday at 2pm. Tickets are $12 and available online at aldenschools.org/boxoffice.
On Saturday, February 4th, the cast and crew will host a "Be Our Guest Brunch" as a fundraising and preview event for the performance. The event will be hosted at Alden High School from 11am until 2pm, or until supplies last. The event includes a brunch service with Mrs. Potts and Chip, as well as other cast members. Meal options are 3 pancakes or 4 french toast strips both served with 2 scrambled eggs, 2 sausage links, hashbrowns, fruit juice, coffee, or tea for just $7 per person. If you're looking for family fun, but don't have an appetite, you can stop by and participate in storytime with Belle, a dance party with Lumiere and Cogsworth, games with Gaston and LeFou, coloring and crafts with Babette and Madame de la Grande Bouche, and you can meet and take pictures with all your favorite characters including the Beast himself! The ticket for activities alone is just $5 per child. The best value for the event is to participate in both the brunch and activities for $10 per person. Your event ticket will be checked at each station. It is recommended that you purchase your tickets in advance to skip the line at the door and guarantee your spot! You can purchase your "Be Our Guest" tickets online, print them out, and bring them with you on February 4th by visiting aldenschools.org/boxoffice.