Singin in the Rain, Jr. Opens Thursday at Alden Middle School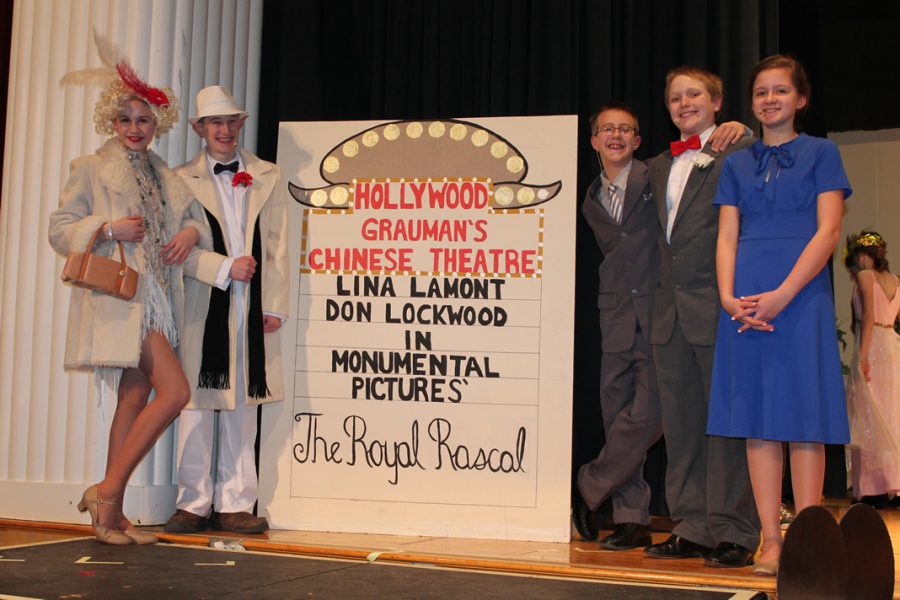 Staff, Staff
March 21, 2017
Alden Middle School students, directors, and parent and high school volunteers have been working to put together a spectacular show, and when the curtain opens Thursday at 7 o' clock, you'll be entertained from start to finish.
The musical takes place in the 1920s when silent films start to be replaced by the "talkies," or movies with actual sound.  The troubles and laughter begin when the leading lady in the latest film, Lina Lamont (Rayahna Tryka) must actually act with her voice.  Trouble is, her voice is simply awful!  Her leading man, Don Lamont (Charles Freeman) along with his friend Cosmo Brown (Matt Robertson) and Kathy Seldon (Katie Sentz) come up with a plan to have Kathy's voice replace Lina's, but when Lina finds out, things become even more outrageous!  With tap dancing numbers galore, amazing costumes, and middle school students with so much talent they could head to Broadway today, you'll be entertained right out of your seats to give a standing ovation at the end!  Classic tunes such as "Good Mornin," and "Singin' in the Rain," will have you singing along!  It is a show for the entire family to enjoy.
Please come support the show this weekend, March 23-25 at 7 p.m. or Saturday 2 o' clock matinée.  Tickets are on sale online at the Alden Central School's box office (aldenschools.org/boxoffice) and can also be purchased at the door. This beloved and classic musical is a show you will not want to miss.  With singing, tap dancing, and phenomenal acting, you will leave wanting to come back and see it again!