Reflection / Portfolio Everett Gilbert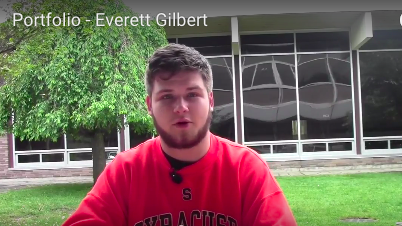 Hang on for a minute...we're trying to find some more stories you might like.
Hey, my name is Everett Gilbert and I'm a reporter for WACS News. I am currently a senior in high school and plan to attend RIT for four years to earn my degree in Computing Information Technologies. My high school career was a good one overall, but it truly flew by. Many hardships were had and many great memories were also made. Originally I enrolled in WACS News / Multimedia Production because I saw the class as a fun opportunity to express myself and my creative ability. Also, many of my friends were taking the class, as well as hearing very good things about the class in the past. This year in Multimedia Production was a confusing one when we discuss my work / projects. I originated as the Marketing Manager, however after finding that role much too advanced and difficult towards the end of the year, I decided that it would be best for both the health of WACS News and the health of my grade if I simply stepped down and became a reporter. At the beginning of the year I was very excited to start working on various projects with my team. We ended up slacking on promotions, but the ones that we did end up making I felt proud of. Without knowing exactly how to do basically anything, many of our promotional videos ended up falling through. My main jobs ended up being to create graphics for the broadcasts, and keep up on analytics. I always was terrible at keeping up with analytics, and I apologize to Brooker Meyer for that one. Overall I started just being worse at well, everything. Towards the middle of the year I became more busy across many aspects of my life, and began to feel like maybe WACS News just wasn't for me. I began to feel like I just wasn't doing a good enough job, and that I was not enjoying what I was doing at all. I felt miserable. I eventually decided to step down and simply become a reporter, which I am currently very happy doing. I enjoy getting to write a story instead of just taking down analytics and making graphics for the broadcast. I'm glad that I had great team members such as Jake Eberle, Chris Dombrowski, Brandi Persutti, and Alissa Wery who were able to keep the Marketing Department afloat when I couldn't. Towards the end of the year, now that I have embraced my role as a reporter, I feel as if my overall work has improved. Before I was not happy with myself, however now I am happy with the amount of effort that I'm putting towards the class. I remember my first story ever as a reporter, where I talked about ACT deadlines, the most boring thing ever, but still had a lot of fun recording it with Alex Leigh. Overall I have learned a lot about not only iMovie but also about Fireworks, an Adobe brand program. This program allowed me to create graphics in a photoshop-esque setting, so that these graphics could be displayed during the broadcasts.  I can also now edit movie fairly efficiently in iMovie, as well as being able to edit sound clips and also creating english projects etc.
If I had any advice for incoming multimedia production students, it would be to only take this class if you're really willing to put in a substantial amount of effort. If you are someone who tends to put off projects / procrastinate, this class might not be the piece of cake class you're looking for. Some of the challenges that I faced throughout the year were getting over my own laziness, and getting enough sleep. I was always tired during class which hindered my productivity. Things that I could have done better include focusing more on the needs of my position rather than spending so much time helping others, and having better time management.
There are some skills however that I did manage to sharpen throughout the year thanks to Multimedia Production. These skills include my professional e-mail writing, my confidence in front of a camera, and how to operate a camera. How does WACS News serve the school? How does WACS News serve the community? I'm not sure to be honest. I don't know of many people that actively tune into WACS News. I believe that it is a very wholesome and educational class, and teaches what it is set to teach, which is how to produce media. But, do I think that WACS News holds as much impact as it used to and / or has much of an impact at all on the school / community? No I do not think so. Most stories are either common knowledge or can be found throughout many other more conventional ways. This is not the fault of the class, rather just that a Student-run news broadcast usually does not pull many viewers, it's just the facts.
My overall experience in the class was mixed. There were some very good times and there were some times that I was absolutely sure that I was not having any fun at all. I expected to come into the class and be able to have a lot of fun, but a lot of regulations/protocol for the class made it hard and restricting. The individuals in my class that are very talented such as Brandi, Brooke, and Paige, definitely had a better time than I did in the class, and that is my fault, not theirs. I was not motivated enough, and grew lazier throughout the year.
I want to address the fact that there is no section that asks what I think could be changed about this class to make it better. There is no prompt that asks me what I thought could be different and what I didn't like. This is fine because obviously the project is focused on reflection, but just to put my opinion out there, I believe a few things could make the class better. These things include more partner work, and less stress on protocol / deadlines. By allowing the students to enjoy their work, I could almost predict that the class would see more productivity.
What did I learn about myself over the course of the year? I learned that the next time I pick up a large responsibility I must first know that I can carry such a weight. I must understand what I'm getting myself into, and be prepared to accept the consequences of not doing the job I was assigned to do. This class is a great example of a real world scenario if you choose to treat it that way. If you are looking to pass by the time by taking WACS News, don't. This class is a good class that should only contain students who are willing to work and truly have a passion for producing WACS News, because without this passion, without this motivation to create, you will fail / not enjoy your time in this class.