Disney's Aladdin, Jr. will Bring Magic and Delight to the Stage March 1-3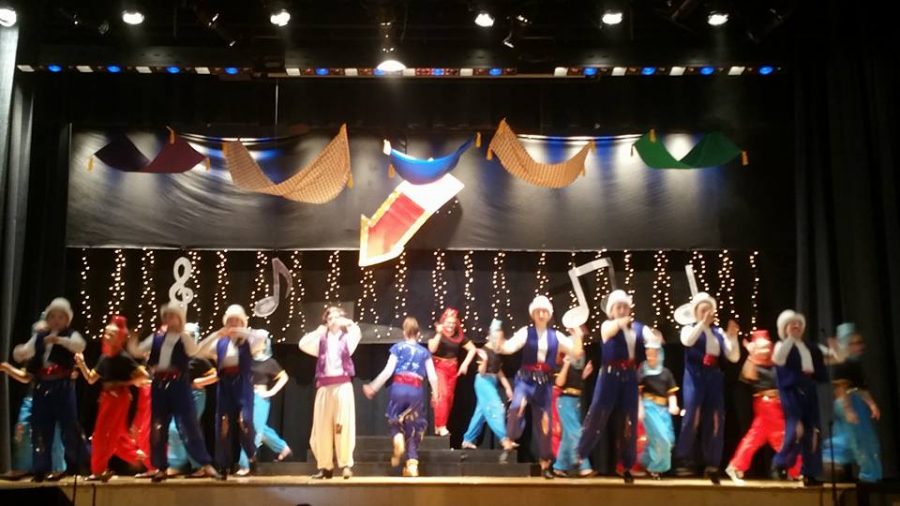 Staff, Staff
February 26, 2018
This year, Alden Middle School students will bring the beloved Disney classic to life for four shows March 1, 2 and 3 ( 7 p.m. each evening, with a Saturday matinee at 2 o 'clock.)  This is a musical experience from Musical Theater International that will thrill and entertain the entire family!  You will love the energy and heart put into classic tunes such as "Friend Like Me" and "Prince Ali," as well as the not so familiar song "Why Me?" that showcases Jafar and guards in a comical kick line!  Aladdin, Jr. includes phenomenal acting and vocal talent as well as specialty tap, lyrical and acrobatic numbers.  Stage and tech crew have been working behind the scenes to bring the excitement of the show to life with magical flying carpets, fog machines, and dancing monkeys and peacocks!  We even have a sparkly camel!
Aladdin (Kyle Urban), a poor boy living in the Arabian town of Agrabah finds himself caught up in a whirlwind of wonder when he meets the run away Princess Jasmine (Aubrey Matthewson).  Jasmine has run away to avoid an arranged marriage which has been ordered by her father the Sultan (Gage Morrissey).  Meanwhile Aladdin ends up being arrested and thrown into the Cave of Wonders by Jafar (McKenzie Wilms) and his guards. When he rubs the magic lamp, he encounters the hilarious and talented Genie (Abby Uhrich) who promises him three wishes.  Of course Aladdin wishes he could be rich and powerful in order to woo Princess Jasmine, and that's when the adventures continue with a romantic carpet ride and a beautiful rendition of "A Whole New World."  In the end, everyone learns the importance of not trying to pretend you're someone else in order to find love and acceptance in life.  
Many people have poured their hearts and time into the creation of this show including Erin Tryka (director), Jill Olka (director), Jodi Rospierski (stage & tech director), Amy Sheehan (costume creation), Melanie Henning (tap choreography), Taylor Grabowski (student director/acrobatic choreography), Emma Sheehan (painting), Lewis Urban (set building), and Reed Schall (carpet creator).  We have had countless student and parent volunteers working on this show, and we would all truly appreciate your support.  Tickets can be purchased at the Alden Central School District website box office.  Please come out and enjoy the show while supporting the arts and these amazingly talented students in Alden!