Alden CSD Theatre Rolling Out "Scholarship Seats"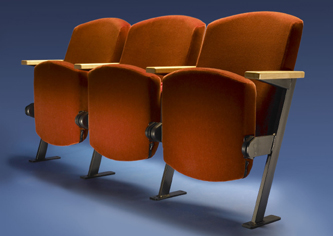 Hang on for a minute...we're trying to find some more stories you might like.
Both Alden Middle School and High School's Theatre programs are gearing up for a very exciting season. Last Spring, the two production teams announced in a video that the High School would be performing both Airline and Disney and Cameron Mackintosh's Mary Poppins while the Middle School will be presenting High School Musical Jr.
In an interview with WACS News, High School Co-Director Mr. Matt Masci announced that they will be adding another new element for the 2018-19 season. When the community logs in to the online ticketing system (TicketPeak) to purchase their tickets, they'll see a new section of green seats on the seating chart. Priced just $3 more than the regular ticket, this green area represents the all new Scholarship Seating area. Scholarship Seats are located in the first 2 main rows of the house and the first 4 rows on the side at the High School. The additional proceeds of each ticket will be set aside for an annual scholarship that will be presented to graduating Seniors.
In addition to seeing these tickets at the High School, Alden Middle School Musical Director Mrs. Erin Tryka has teamed up with the High School team to offer them at the Middle School as well. With the Middle School inviting this program into their auditorium, its estimated that up to $1,500 in scholarship money could be raised should all of those seats sell out. Masci says that his hope is that "this is just one way we can give back to our kids that have been so instrumental to the success of our program" and that it "celebrates their hard work" over the years.
The seats will be available starting with the High School's production of Airline November 15th, 16th, and 17th. Tickets are available at aldenschools.org/boxoffice.