SNEAK PEEK: 'Renovations 2014' Improvements for 2016-17 Year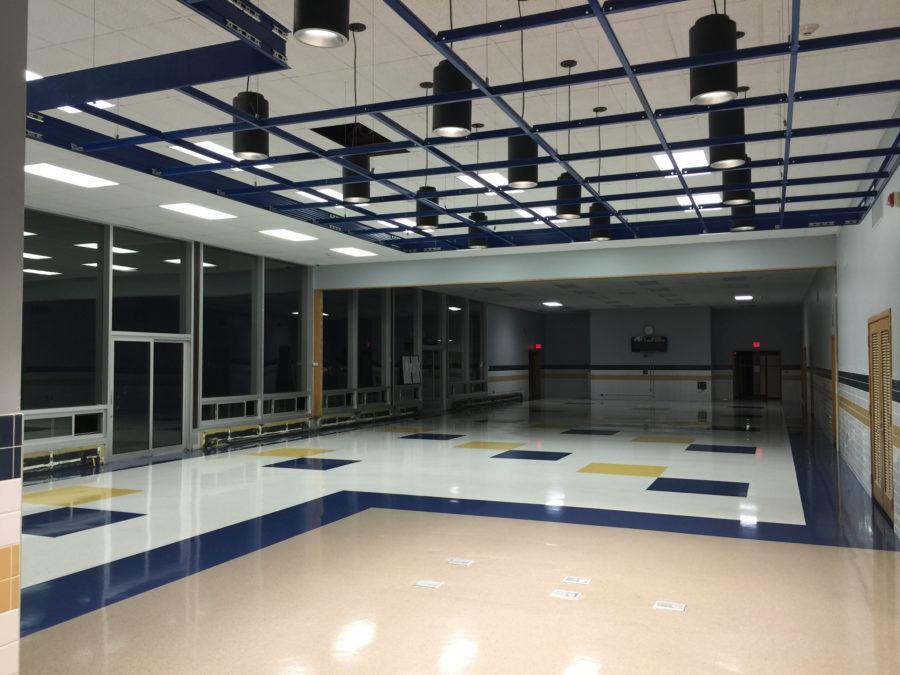 Staff, Staff
August 30, 2016
Our story from July showed images of the Middle School and High School in very rough shape as construction crews began demolition on several areas on each campus. As the High School held New Student Orientation on August 24th, the common question among visiting students and parents was "how will they finish this in time?"  Miraculously in just one week, it looks like the mess is dwindling and drastic changes are becoming very apparent as crew put on this finishing touches in the coming days. Heres a quick sneak peek at some of the major changes you'll notice around ACS.
MS/HS SECURE ENTRANCES
Alden Middle School Secure Entrance Gallery
Alden High School Secure Entrance Gallery
The main office areas of both the middle school and high school were completely reconstructed to create a "secure entrance" to the both buildings. The primary school and intermediate school buildings already had similar systems in place.  All visitors and late-arriving students for these buildings must enter through the respective "secure entrance". At the middle school, the main doors will still be utilized. Meanwhile, at the high school, the secure entrance is accessible from the Park Street bus loop to the immediate right of the old main entrance. Beginning on Tuesday September 6th, 2016 all visitors entering any of the four school buildings of the Alden Central School District (High School and District Office on Park Street, Middle School on Park Street, Intermediate School on Crittenden Road, and Primary School on Broadway) will be required to present  valid, government-issued picture identification (Driver's License) in order to gain access to any of the buildings.  Without proper identification, admission will be denied.  We realize that this constitutes a change from past practice.  However, we are instituting new safety measures throughout our District in an effort to provide the utmost safety and security for the students and adults in our schools.  This measure is one of those changes that we will consistently enforce beginning 9/6/16.
Visitors who do not need to "enter" a building for official business may use the secure entrance for each building (as listed above).  For example, many parents come to our buildings daily to "drop off" an item that a student forgot at home (lunch, clothes, books, etc.).  In this case proper identification will NOT be required.  The parent/visitor will enter the secure entrance and pass the item to school personnel without gaining entrance to the building.
HIGH SCHOOL CAFETERIA
Our cafeteria has been completely remodeled from the floor on up.  A new serving line will allow for students to get all of their food items in one location and no one will ever need to stand in the hallway to access the line.
HS LOCKER ROOMS
Both the boy's and girl's locker rooms have been renovated to include new lockers, lights, flooring, etc.
HS CLASSROOM DROP CEILINGS
Crews continued to replace ceilings and lights on the first floor of the high school to save energy and to enhance our learning environment.
IS/MS INSTRUMENTAL MUSIC SUITE
The former space was cramped with a lack of storage and very uncomfortable due to the lack of an HVAC system. The new design has storage space, heat, A/C, modern flooring, ceilings, lighting, and a projection screen that lowers from the ceiling.
HVAC & PHONE SYSTEM UPGRADES
Some of the changes you may not necessarily notice are various HVAC updates as well as a conversion to a digital phone system.